How much does it cost?
Your CookieCon ticket costs
$299
. You may pay with a credit card through our secure Registration Website, which will be available before registration opens. There will also be Add-On Workshops (available to those who purchased a CookieCon Ticket) for additional fees. These will also be purchased through our Registration Website.
What does my ticket purchase include?
The registration fee for the convention is
$299
. For your registration fee, you will receive:
The opportunity to meet and learn from some of the top decorators in the industry, including 7 lecture-style classes
A CookieCon Tote bag and swag from our fabulous sponsors, along with the chance to win one of many door prizes up for grabs
Hands-on experience with cookies, icing, equipment, and supplies provided for your use
Your choice of several focused break-out sessions
Opportunities to participate in other fun activities and entertainment, including a tasting event
Entry into our Sugar Show in as many categories as you like, with the chance to win cash prizes
Opportunity to register for Add-On Workshops (optional and additional cost)
Shopping with vendors
Dinner on Saturday night at our Awards Banquet
Memories and friendships that will last a lifetime
Registration does NOT include transportation, lodging or any meals except for the Saturday night banquet. Attendees will be responsible for arranging and funding their own transportation and lodging needs. Please see venue and transportation page for more information. Registration fee also does NOT cover any Add-On Workshops.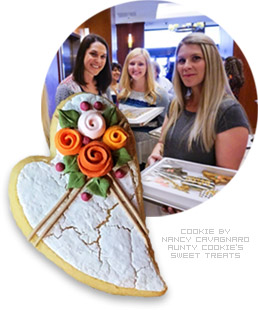 When do tickets go on sale?
Ticket sales will start March 14, 2018 - 7:00pm Mountain Time. You can register through our Registration Website which will be available before that date. We will clearly link to it from this Website as well.
Where will CookieCon be held, and when can I make hotel reservations?
CookieCon 2018 will be held at the "Indianapolis Marriott Downtown". The Marriott has offered a limited number of special event priced rooms for CookieCon attendees, which will be available for reservation starting March 14. Please make sure you have a CookieCon ticket before reserving rooms at the Marriott. Group rate is $154 per night, with complimentary guest room internet services.
We will continue to update you with information on parking, transportation, and additional amenities as we get it!
Indianapolis Marriott Downtown
350 West Maryland Street
Indianapolis, IN 46225
1-317-822-3500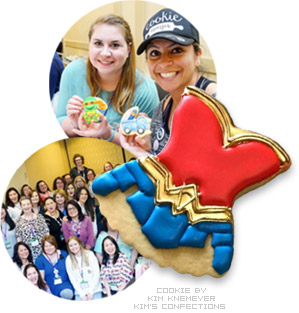 Who will be teaching at CookieCon?
We will have a fabulous line-up of instructors, just as we do at every CookieCon event! We are finalizing that list and expect to make announcements soon!
What are Add-On Workshops?
You get a full package of instruction and experiences with your ticket price, so if that is all you do, you'll have a great time! But if you are looking to make the most of your trip to CookieCon, we also offer a fantastic line-up of Add-On Workshops that you can register for.
Our Add-On Workshops are smaller, hands-on experiences with world-class instructors. Each one is an additional cost, and those will be listed on our registration site soon. Registration for these classes will happen at the same time that you purchase your CookieCon ticket (beginning March 14, 2018).
These classes will take place on Wednesday and Thursday, and will not interfere with the core CookieCon experiences. If you opt out of these, you can arrive by noon on Thursday.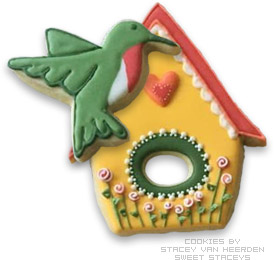 Is it ok if we arrive late? What about having to leave early?
While we'd love to have you there for as much of the event as possible, if you need to arrive late or leave early that's just fine. If you'll get there later than Thursday, just find one of the event staff when you arrive so we can get you "checked in", and get you your name tag, schedule, etc.
The entire schedule will be available closer to the event, but the basic outline is registration and orientation on Thursday, Opener/Keynote Thursday evening, included classes and vendors all day Friday, vendors, open decorating, breakout sessions, closing banquet on Saturday. If you register for any Add-On Workshops, they will be held on Wednesday and Thursday.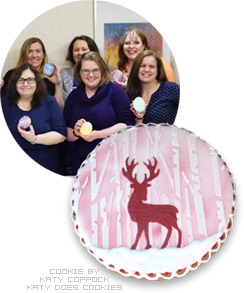 Will we need to bring decorating supplies? What about cookies to decorate and try some of the techniques being taught?
Supplies and cookies for decorating will be provided - so no need to worry about any of this. Having said that, if there is anything you'd like to bring to use yourself, show others, etc., this would be more than welcome. You will be responsible for keeping track of your stuff. Some Add-On Workshops may require you to bring some supplies, but that will be clearly outlined when you register for each class.
Do we have to bring decorated cookies for the Sugar Show contest?
We would LOVE to see as many people bring cookies as possible to contribute to our Sugar Show - but if you simply don't want to, it's not required.
If we want to save on the hotel, can we have roommates? How will that be arranged?
You are more than welcome to make whatever arrangements you'd like with roommates. The CookieCon Attendee Facebook page will be great resources for making such arrangements. You can join this page once you've purchased a ticket.
Will there be vendors there?
Absolutely. Details on specific vendors are coming. Keep an eye on this web site. We will also be announcing them on the CookieCon Facebook page. If you are interested in being a CookieCon sponsor or vendor, please
click here
for more information and to apply.
Is this event limited to U.S. Residents?
Absolutely not. We'd love to see anyone come. As long as you love cookie art, we love you! We saw decorators from several different countries at our last event!
Is CookieCon beneficial for any skill level?
We strive to cater to decorators of all skill levels. Feedback from attendees has indicated that new and experienced decorators alike loved CookieCon and felt that they benefited from it. We have even had people attend who had never decorated at all!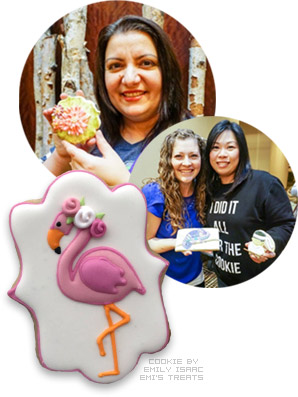 If something comes up, and I cannot attend, are there refunds?
We understand that life happens. If you are unable to attend CookieCon after purchasing a ticket, please let us know ASAP. For the CookieCon event ticket, full refunds minus a $15 processing fee will be offered until August 12, 2018.
Students may cancel their Add-On Workshop registration(s) for a refund (minus a $10 per class cancellation fee) up to July 14, 2018. From July 15 through August 12, 2018 they may cancel with a 50% penalty.
After August 12, 2018 there will be no refunds issued for either the event ticket or Add-On Workshops.